After the horrific attacks on Charlie Hebdo in which 12 people were killed, many have turned to social media to express their feelings, show solidarity with the attack's victims, or to produce/consume information regarding the attack. The emergence of #JeSuisCharlie on social media and the chanting of it at rallies around the world indicates how central social media has been as a public outlet during this crisis. Indeed, #JeSuisCharlie speaks to the larger point that crisis hashtags are built around a notion of 'event society' where social media activity can become part of a public sphere that rallies around events such as crises. However, though we consume and produce social media content in times of crisis, we often do not step back to reflect on our motivations for doing so nor do we question whether social media spaces bring us together or polarize us.
Individuals use social media in times of crisis for several reasons. In my work on Twitter use during Hurricane Sandy, I found that some users turn to social media as a form of 'self therapy', an outlet to communicate their anxieties or stresses during a crisis and to receive direct or indirect support. Individuals also turn to social media to produce and consume memes and other humorous content; this can also be a form of self therapy. Though one would not expect humor to be present in #JeSuisCharlie, it is. In homage to the cartoonists who were killed in the attack, some of the images within the hashtag use humor to both cope as well as attack the motives and means of the terrorists. For example, there are numerous cartoons that have been retweeted, which show masked terrorists being attacked by showers of pencils and pens or a gunman shooting a fountain pen and ink spilling out. Some of the most retweeted images include a pencil shoved into a machine gun and a pencil being attacked and then attacking a gunman after being sharpened.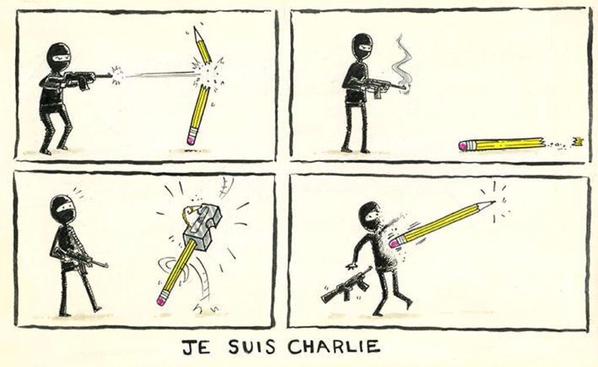 Social media – especially Twitter – is used by many as source of information. Important news stories are retweeted and friends and followers engage in social bookmarking or other means to suggest important sources of information. Social media is well known for being timely in terms of information dissemination during crises. This has also been the case with Charlie Hebdo. Citizen journalists use social media to report on what is happening on the ground. Often citizen journalists can be closer to the epicenter of a crisis. For example, eyewitness accounts outside Charlie Hebdo's offices were being tweeted as the events unfolded and the opinions of Parisians were being retweeted right away. Though, like in any crisis, because much of this information is produced by non-professional journalists, social media has and continues to be plagued by issues of information integrity. In the case of Charlie Hebdo, factually inaccurate accounts in terms of the number of dead or number of gunmen were widely circulating on social media.
Social media is also used to check how friends and family are faring during the crises and many platforms including Facebook and Twitter afford us the ability to keep tabs on large circles of friends, family members, and colleagues during crises. In the case of Charlie Hebdo, social media was being used to both collectively express solidarity as well as for Parisians to talk to each other as small and large groups about what happened and how they were feeling.
In following #JeSuisCharlie, it remains clear that we have to remember that trending topics by definition trend because they are popular. As such, they are also attractive targets for anyone who wants a soapbox. Because of the usually open nature of social media, hijacking is possible (whether through bots or masses of supporters). Companies have also tried to sell products via popular hashtags during times of crises – usually in poor taste. Extremists have also had success in inserting themselves into trending topics. Pro-ISIS supporters, for example, have made social media a central aspect of their recruitment and propaganda machine. In the case of #JeSuisCharlie, supporters of the gunmen also emerged. In my book, I argue that the openness of social media makes it able to be used by any side (including extremists, spammers and trolls). In this sense social media like all communication media is value neutral. This can have real consequences on civil society as people increasingly turn to social media as a community space to interact publicly.
This can lead to a certain divisiveness on social media. What often happens in social media and more broadly online are processes of polarization that can often privilege certain positions. Additionally, certain individuals and groups have more social media savvy/knowledge and are able to better leverage the platforms to get their points across. This can result in floods of retweets or mentions where polarized sides and up preaching to the choir and not talking to each other. This is not exclusive to crisis communication, but is a broader trend on Twitter and other social media. Sadly, this polarization does not advance collective dialogues during times of crisis.
Ultimately, we may be tempted to view #JeSuisCharlie as a peripheral part of the Charlie Hebdo crisis. However, social media plays an important role in shaping public perceptions of crises. This is particularly true when celebrities, politicians, and social media 'influencers' direct or spark conversations, chatter, or the circulation of information. Often just a handful of tweets are what are most read and responded to during crises. For example in the recent shooting at Florida State University in the US, a tweet about a shooting victim whose life was saved by a bullet hitting a stack of library books in his backpack generated the most discussion on Twitter and was highly influential in shaping social media discussions. In the case of Charle Hebdo, the same is true with next week's cover of the New Yorker the most retweeted and commented on image and tweets by CNN's Jake Tapper and Stephen Fry the most retweeted and commented on. Even though social media contains a deluge of content during crises, certain themes can and do shape public opinion during crises.