Dhiraj Murthy is regularly requested for speaking engagements. Whether you need a keynote speech to ignite your conference or a personalized talk about social media in your institution or organization, Dhiraj is a leader in the field of social media and brings extensive sociological insights about social media into his talks. Recent keynotes and invited speeches include:
Web Science Summer School, National University Singapore
University of Cambridge, Centre for Research in the Arts, Social Sciences and Humanities
Federation of Finnish Learned Societies, Helsinki, Finland
The American Society of Geolinguistics, Baruch College, City University New York
Rensselaer Polytechnic Institute
Occidental College
Philoctetes Center, New York
City College, London
University of Tampere, Finland, Department of Sociology
R/GA New York
University of Maine, Orono
University of Southampton Web Science Institute
Social Research Association UK
Seven Siblings Conference, Mount Holyoke College
University of Westminster, Communication and Media Research Institute
University of California, Santa Barbara, Department of Communication
Media pre-conference, American Sociological Association 2013
Dhiraj generally speaks in the US and Europe, but is available to travel farther afield.
All speaking requests should be directed to: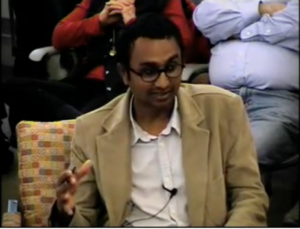 Video of Dhiraj at a panel with Sean Parker, Founding President of Facebook